3-14 sep 2019 (Lilla scenen)
oR/elleR (SWE)
WEB
WEB is a children's performance - an artistic hybrid that juggles the formats installation, dance and aesthetized playground.
---
Biljetter & info
The performance dates above are to Dansens Hus public performances.
School performances is played 3-12 september. Booked by dansistan.se

Duration: 40 min
---
WEB is a virtual nest, a floating spider web, an animated platform, or the climbing net in your backyard. Together with Anja Arnquist and Madeleine Lindh you are invited to weave choreography from the networks. In a poetic landscape we hang up our thoughts in the ceiling, dance on imaginary paths, beads variegated bands of our bodies and let everyday life move into the stage room and go up in smoke.
Madeleine and Anja have since 2009 worked closely together under several umbrellas within the Swedish dance scene. With the performance WEB, they build on their ten-year collaboration and invite the stage designer Johannes Fäst, composer Wiliam Rickman and the light designer Tobias Hallgren, to weave out an artistic hybrid that juggles the formats installation, dance performance and aesthetized playground
MEDVERKANDE
Koreograf
Anja Arnquist & Madeleine Lindh
Kostym
Anja Arnquist & Madeleine Lindh
Samproduktion
Dansens Hus
Med stöd av:
Kulturrådet
Stockholm Stad
Stockholms Läns Landsting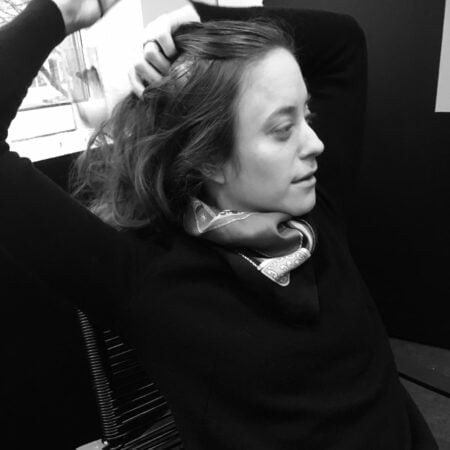 OM MADELEINE LINDH
Madeleine Lindh är utbildad vid Kungliga Svenska Balettskolan mellan åren 1996–2004. Hennes första arbete var med Europa Danse Youth Company, där hon dansade i stycken av bland andra Mats Ek och Hans Van Manen. Under åren 2005–2007 arbetade hon med William Forsythe, Wayne McGregor, Angelin Preljocaj och Frédèric Flamand i projektet D.A.N.C.E (Dance Apprentice Network aCross Europe).
Madeleine har sedan 2008 mestadels frilansat med Stockholm som bas och har bland annat arbetat med koreografer som Björn Säfsten, Linda Blomqvist och Cristina Caprioli. Hon sysslar också med redigering av film, dansfilm och dokumentationer av dansföreställningar vid sidan av sitt arbete som dansare.
OM ANJA ARNQUIST
Anja Arnquist är utbildad vid Balettakademien och Doch i Stockholm. Hon har sedan 2004 arbetat med dans och koreografi inom den samtida dansen, både nationellt och internationellt.
Bland de koreografer Anja arbetat med, har hon under åren som dansare fördjupat två starka samarbeten, med koreograferna Cristina Caprioli och Björn Säfsten. Innanför dessa forskande verksamheter har hon arbetat fram ett stort antal produktioner sedan 2009 respektive 2006.
Utöver sitt mångåriga arbete som dansare har hon periodvis producerat, koreograferat och kurerat diverse projekt, festivaler, mötesplatser, symposier och samlingsutställningar. I samarbete med platser och parter som; Norrlandsoperan, DOCH, Cullbergbaletten, Moderna Museet, Skånesdansteater, Riksteatern, MDT, Umeå kulturhuvudstadsår 2014, Madefestivalen, Produkt, Västerbottensmuseum, Dansbiennalen 2008, Original Förlag och Dansmässan2018.
---
Visas i samarbete med: