En feministisk omfamning av MTV:s lättklädda hiphop-brudar. Vågat och med en uppfriskande klarhet dissekerar Cherish Menzo den misogyna hiphopkulturen och dess legendariska kvinnoporträtt. 
Tickets
90-talet, MTV och lättklädda videovixen-tjejer som skakar rumpa till hiphop. Ett klockrent exempel på när "the male gaze" har löpt amok och lyckats förpacka (framför allt svarta) kvinnor till rekvisita med uppgift att hävda ett manligt ego. 
Men här råder också en ambivalens, för trots det hypersensuella uttrycket under rappens hårda "bitch and slut" så är hon stark och självständig. Hon vägrar låta sig definieras av andra och utmanar tveklöst de förväntningar som ställs på henne som kvinna. 
Videovixen är en kontroversiell stereotyp – omtvistad, debatterad, närmast ikonmärkt. I Cherish Menzos verk "Jezebel" möter vi henne in på bara skinnet, komplext dekonstruerad med skärpa och rättsinne.   
"Jezebel" är ett djärvt verk där Menzo lyckats placera vixen i ett nytt perspektiv som både utmanar och ifrågasätter hur denna hiphopikon skulle kunna se ut idag.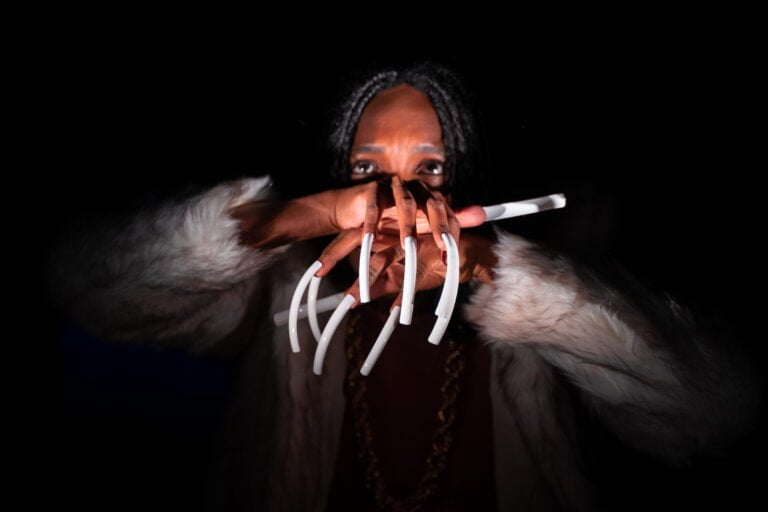 Cherish Menzo
Nederländska Cherish Menzo är utbildad på The urban contemporary vid Hogeschool voor de kunsten i Amsterdam. Efter sin examen har hon varit verksam som dansare i verk av bland annat Eszter Salamon, Akram Khan, Olivier Dubois, Lisbeth Gruwez och Jan Martens. "Jezebel" är hennes första egenproducerade föreställning vilken vunnit både priser och mottagit kritikernas hyllningar.
Tickets
Eftersnack med Cherish Menzo och Fanna Ndow Norrby efter föreställningen den 18 november.
Concept, choreography & performance
Cherish Menzo i samproduktion med Frascati Producties
Ljusdesign & teknisk koordinering
Niels Runderkamp
music
Michael Nunes
Video
Andrea Casetti
Costume
Daniel Smedeman
dramaturge
Renée Copraij
Outside eye
Berthe Spoelstra, Christian Yav och Nicole Geertruida
Voice coach
Shari Kok-Sey-Tjong
Photo
Tatchatrin Choeychom
Co-production
Frascati Productions
Producer
Bibi Scholten van Aschat
Distribution och turné
Management Grip & Frascati Productions
With the support of
Amsterdam Fonds voor de Kunst
Thanks to
Benjamin Kahn och Centre Chorégraphique le Château