22 konferensstolar och en extremt hängiven man utgör grunden för detta intelligenta och lekfulla solo. PLI håller en fin balansgång mellan galenskap och engagemang.
Viktor Černický är den multidisciplinära konstnären som redan i början av karriären tagit scenkonstfältet med storm. Han har förbluffat publiken med sina uppfriskande idéer och kammat hem priser för sin unika stil. Han har kallats för både visionär och ett framtida hopp för scenkonsten.
PLI är Černickýs andra verk, en nervkittlande föreställning som ställer scenkonstens konventioner på ända. Med ett enormt tålamod och en gnutta galenskap staplar Černický sina stolar en och en tills de utgör magnifika fragment av arkitektur eller fantasieggande skulpturer.
Med den smarta kombinationen av ett anspråkslöst rum och en uppsjö av stolar har föreställningen förmågan att vara minimalistisk och grandios på samma gång. PLI är en oförutsägbar och humoristisk föreställning som balanserar mellan galenskap och engagemang.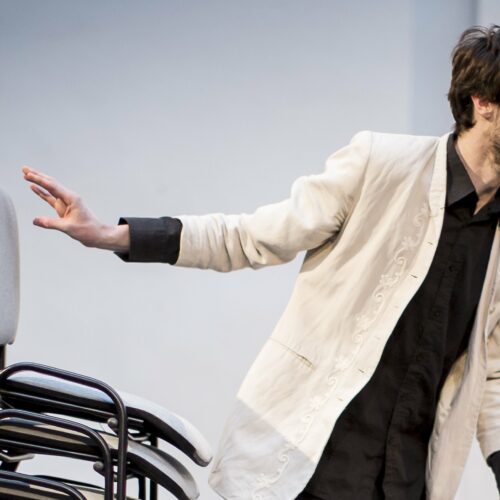 Viktor Černickýs
Multidisciplinära konstnären Viktor Černický skapar verk som spränger alla gränser på det samtida scenkonstfältet. I sina verk balanserar han mellan dans, performance, cirkus och fysisk teater. Han leder ett långsiktigt forskningsprojekt som undersöker den dynamiska relationen mellan objekt och subjektiv individualitet hos artisten.
Hans allra första solo, Parolapolea, fick honom nominerad till såväl årets dansare som årets dansföreställning vid Czech Dance Platform 2017. Två år senare stod hans verk PLI klart, och liksom föregående verk blev Černický överöst med priser. Verket blev utvalt till Aerowaves Twenty20 och har sedan dess turnerats flitigt.
Participants
Concept, choreography, dance
Viktor Černický
Light
Zuzana Režná
Dramaturgy
Lukáš Karásek
Tekniskt genomförande
Drahomír Stulír
Co-production
PONEC – dance venue
Photo
Vojtěch Brtnický
In co-operation with
PONEC – dance venue (CZ), BuranTeatr Brno (CZ), CNK Záhrada Banská Bystrica (SK), Théâtre De L'arsenal Val-de-Reuil (FR), CIRQUEON Praha (CZ), Alfréd ve dvoře Theatre (CZ), Studio Alta and Festival Bazaar (CZ), Pôtoň Theatre (SK), Festival Kiosk (SK), CSC – Centro per la Scena Contemporanea Bassano del Grappa (IT)
Med stöd från: Ministry of Culture of the Czech Republic och The City of Brno.
PLI har tilldelats Audience Award och Total Award för den tjeckiska dansplattformen 2019. Viktor Černický har fått en nominering för koncept och koreografi i kategorin Dance and Movement Theatre på Theater News Award 2019.
På turné med Dansnät Sverige hösten 2021 i:
2 november, Skellefteå, Sara Kulturhus
3 november, Umeå, Campus Lärarutbildningshuset
7 november, Jönköping, Jönköping läns museum
9-11 november, Karlshamn, Lokstallarna
14 november, Säter, Folkets hus i Säter
16 november, Uddevalla, Rampen
17 november, Vitlycke, Vitlycke Center for Performing Arts
19-20 november, Stockholm, Dansens Hus