About making your dark forces your best mate.  
Tickets
DARK DYNAMITE is a dance performance that challenges society's diagnosis hysteria, and expands the space of what is normally human. "Dark dynamite" is a dance performance about the dark forces that drive or slow down the body: fatigue, lethargy, apathy, restlessness, rootlessness, despair and indefinite aggression. These forces are powerful, they can destroy us at any time. We hide them behind diagnoses that limit the range of what is normal.
By allowing the unbridled side of life to unfold, this choreography points to the idea that life is a self-forming matter beyond our control. And where dark forces are inevitable, and indispensable, players.
In English
The body harbours a reserve of dynamite. Lurking under the skin, the destructive forces are existence itself, dissolving identity instead of solidifying it. The body's capacity to undergo metamorphosis is part of our biology, and we celebrate its ability to change. Change is often seen as something positive, a progression, a step forward. But the capacity for progress comes at a price: it is often counterbalanced by a form of destruction. This does not contradict life - it makes life possible.  
DARK DYNAMITE is a choreography for one dancer amongst several sculptural bodies. The work has been shaped by those dark forces that mold bodies, accelerate or slow them down, such as fatigue, lethargy, apathy, restlessness, negligence, despair, or looseness. These forces are challenging and have the potential to undo us at any given moment. It is the side of life many wish to suppress. As an attempt to separate these dark forces from everyday life, they are pathologised and treated as medical diagnoses although this reserve of darkness is nothing less than life itself. The more the vulnerable sides of life are medicalized, the more our sense of normalcy shrinks in turn. By letting life's worn and unbridled sides unfold, the choreography points to the idea that parts of life are self-forming matters beyond control, and that dark forces are its inevitable players.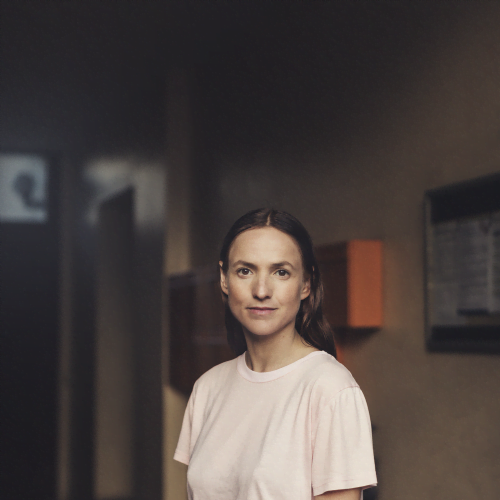 Rosalind Goldberg
Rosalind Goldberg (Sweden/Norway) is a choreographer based in Oslo. She is currently affiliated with the Oslo National Academy of the Arts where she is pursuing a PhD in choreography.
Rosalind's work explores the process of change and is characterised by a physical and conceptual approach to choreography, where the entanglement of these two governs the process. Central to her work is the question of what we can expect from the body - the extent to which the body can change, and what aspects of the body we hide from. All examined from a social, economic, cultural and environmental perspective. She is interested in the unknown, uncomfortable and fantastic parts of the body's own life and explores the murky waters where biology and the body rub against each other.
Rosalind's work has been performed at the Impulstanz Festival in Vienna, Tanz Im August in Berlin, Schauspielhaus Bochum, Sophiensaele in Berlin, Schauspielhaus Chemnitz, Uferstudios in Berlin, TanzFabrik Berlin, Dansens Hus in Stockholm, Inkonst in Malmö, Dansens Hus in Oslo, BIT -Teatergarasjen in Bergen, Henie Onstad Art Center, Rosendal Teater in Trondheim, Black Box Teater in Oslo, RAS - Regional Arean for Samtidsdans and others.
Tickets
Discussion with Professor Bojana Cvejić after the performance on 2 November. Read more
Concept and choreography
Rosalind Goldberg
Developed with and danced by
Sigrid Hirsch Kopperdal
music
Camilla Vatne Barratt-Due
Lighting design
Anton Andersson
Stage design and costumes
Tarje Eikanger Gullaksen
Co-production and support
BIT-Teatergarasjen Bergen, Henie Onstad Kunstsenter, Tanzfabrik Berlin, RAS-Regional Arena for Samtidsdans, Rosendal Teater in Trondheim, Kulturrådet i Norge, Kulturfonden, Oslo National Academy of the Arts, Rosalind Goldberg, Sigrid Hirsch Kopperdal, Tarje Eikanger Gullaksen, Camilla Barratt-Due, Danse- Anton Andersson, Teatersentrum via the support scheme funded by the Ministry of Foreign Affairs in Norway, Norsk kulturfond.