26-27 sep 2019 (Grand Stage)
Saburo Teshigawara (JPN)
Lost in Dance
Saburo Teshigawara is one of Japan's most influential creators of its generation. At the age of 65, he is still very active on the stage. This fall he has premiered for his "Lost in Dance".
---
Biljetter & info
Performance duration: 60 min
---
Stripped, poetic and feather-light. "Lost in dance" is masterful dance art in its rawest, most concentrated form; as always when acclaimed veteran Saburo Teshigawara creates his artwork.
Teshigawara is really an artist in the right sense of the word. Choreographer, but also writer, artist, lighting designer and scenographer.
"I don't live to make dance. When there is something I want to express, if I hold a pen it will be poetry, if I have a canvas in front of me it will be a painting, and if there is space around me it will become a dance."
SABURO TESHIGAWARA

And in his works he also likes to do everything. In the duet "Lost in dance" he stands for directing, lighting design, sound collage and also dances himself on stage. But the real protagonist of "Lost in dance" is Rihoko Sato – Teshigawara's partner for over 20 years. Inspired by Teshigawara's movement universe but with its own original expression, Sato's swirling, virtuoso creature is an all-around wonderful experience.
"Lost in dance" premiered in Havana, Cuba, during the summer of 2018, but is now coming to Dansens Hus in an expanded, reworked full evening version.
No matter how much you dream of death
You sense the fear of surviving forever
The element that is or isn't there
You lose yourself, with no time to even mourn about it
With a certain innocent meaninglessness
And a profound yet light, endless emotion
Dance appears from qualitative movement
You do not exist here anymore
You may not know it yet
But you keep on dancing even though you do not exist
Nobody can touch you
Not even yourself
The fragility of beauty
The strange yet fearful fragile dream is like death
No matter how much you dream of death
You sense the fear of surviving forever
To the world on the opposite bank, is it of joy, or sorrow?
Saburo Teshigawara
"Teshigawara is a fabulous dancer /.../ Liquid yet cutting, he slips between sculptural stillness and whirlwind speed with amazing skill"

The Times

"Teshigawara is the master who expresses the pinnacle statically (...) It is a powerful yet calm meditation"

Die Zeit

"When Teshigawara dances, his body is heavy and light, static and dynamic at the same time. "

Frankfurter Allgemeine Zeitung
MEDVERKANDE
Directing, lighting design, sound collage
Saburo Teshigawara
Artistic collaborator
Rihoko Sato
Photo, Saburo's portrait
Rihoko Sato
Photos of the performance
Akihito Abe
Dancer
Rihoko Sato, Saburo Teshigawara
Technical coordinator / light assistant
Sergio Pessanha
Production assistant / Costume
Mie Kawamura
Tour production:
Epidemic (Richard Castelli, Chara Skiadelli,Florence Berthaud)
Premiere on original idea
6 April 2018 at The Grand Theatre of Havana, Alicia Alonso, Cuba
Made possible by
The Japan Foundation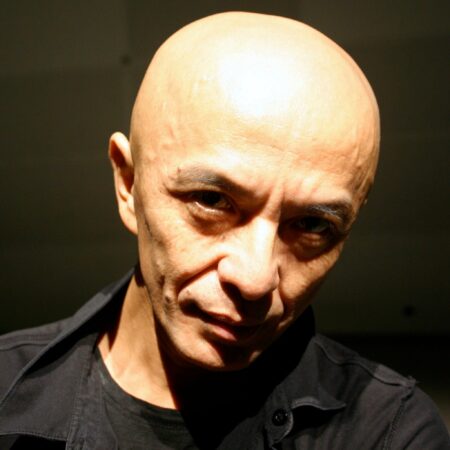 Saburo Teshigawara
Teshigawara was born in 1953 in Tokyo. He got his education in classical ballet.
– I wanted to study ballet at the beginning to know what the ballet is, why the technique is so good. In terms of technique – what happens to the body? It was a very essential study. But I wanted to be a creator, he says in an interview with Karolina Bieszczad-Roley.
In the mid-1980s Saburo Teshigawara started the company Karas together with Kei Miyata. The duo started by exploring the concept of "empty body". From there, he developed his own style where air is central; air both as in breathing and as elements. These are also emotions and moods that permeate his choreography and movement universe.
In recent years, the Swedish audience has had the opportunity to become acquainted with Saburo Teshigawara and partly at Drottningholm Castle Theater where he choreographed and directed the critically acclaimed "Pygmalion" last summer. Partly in 2016 when two of his works, Tranquil and Metamorphosis, were shown at the Gothenburg Opera.
At the Dance House we saw him last 2003 with the work "Bones in pages"
---
Made possible by