Follow the rope through the city. Take part in this exciting dance walk both physically on site or digitally through live streaming here on our website.
Tickets
"It all started a decade ago as an exciting yet arduous encounter between the thousand metre long heavy black rope and the two of us. Now, after many new forms of this first initial encounter, the time has come for us to share the rope. Instead of letting it run and be tied only between ourselves, we let go of the rope, to let it be pulled, stretched and travelled among others and through the urban landscape".
In "Communal Rope", you, the audience, will form a temporary "community" that carries the rope through the streets of Stockholm for several hours. From Welds premises at Norrtullsgatan 7, via the Dansens Hus at Norra Bantorget to MDT on Skeppsholmen.
As we move forward with the rope, we will reconnect with an as yet unrealised dream that a jointly shared effort can make us imagine the urban environment as a topography for a shared immersive coexistence we can claim as a common home. Even if no city today lives up to this dream, even if such a shared residence has not yet been built, this does not prevent us from wishing for its existence. Maybe, just maybe, the kilometre-long rope can help keep the dream alive. Knots unravel, entangled entanglements persist, in and beyond the weight of the rope and the formation of open spaces. Connections between disparate and multiple points along the stretched rope suspend distances that separate, into a web of unifying close immaterial relationships. Relationships that recreate the commonly shared time-space, the social time-space that includes and sustains us, the one whose commonality we inhabit.
It will be a six-hour collection that slowly moves through the city. You choose whether to participate in the whole experience or parts of it. Audience members are present throughout the journey.
Immerse yourself in the artistic concept of the work.
Read more about the work of the Agency and listen below to a talk by dramaturge Igor Dobričić .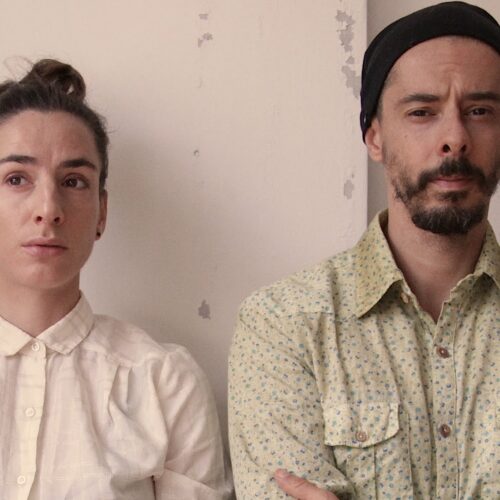 Quarto
QUARTO is an artist duo founded in 2003 by Anna Mesquita and Leandro Zappala, living and working between two very different cultures - Brazil and Sweden. QUARTO is engaged in a long-term research with artists and researchers in interdisciplinary art, involving both theory and practice. Engaged in philosophical questions about power relations and the limits of the body, they seek to create thoughts and subjectivity through a radical, visual and physical experience.
Participants
Choreography, concept
Anna Mesquita, Leandro Zappala
Participants
Irma von Platen, Bartira Fortes, Leah Landau, Robin Dingemans, Mariana Costa, Linn Ragnarsson, Viktoria Andersson, Britta Kiessling, Stella Kruusamägi, Dafne Giannikopoulou, Emma Kerttula, Laura Linna, David Anstey, Bartek Mikula, Mira Jochimsen, Roula Argiri Samiotaki, Joanna Kerkelä, Philippa Tsai
Dramaturgy
Igor Dobričić
visual artist
Pol Matthé
Video
Lumination of Sweden & Mila Ercoli
Production
QUARTO & Nordberg Movement
Coordinator
Nina Overli
With the support of
Swedish Arts Council, City of Stockholm & Region Stockholm
Co-production
Weld, MDT & Dansens Hus Stockholm
In co-operation with
Stockholm University of the Arts
Photo
QUARTO, Leandro Zappala
Tickets