Welcome to NET - an interactive dance performance where you hold the board.
Recommended from 5 years old. School performances take place 10-13 October. Sold through Dansistan: www.dansistan.se/net.
In NET, a net moves in and spreads in the theatre space. Together with three dancers, you unfold the performance and a choreographic kaleidoscope emerges. Here, we get lost in an undulating landscape of 192 elastic squares, which, with dance as a motor, opens doors to new spaces to wedge our fantasies into. To catchy beats and melodic loops, we build a shared aesthetic experience together.
NET is aimed at children and adults, from 5 years old. It is an interactive performance and everyone in the room participates.
In contrast to contemporary notions of identity, autonomy and independence, NET invites you to dance by making room for you to become a link in the chain, a thread in the web or an atom in the molecule. With speculative curiosity, we see ourselves as parts of new figures in constant transformation. Perhaps this is a world where singing cats enter and pixelated avatars dance in a pyramid?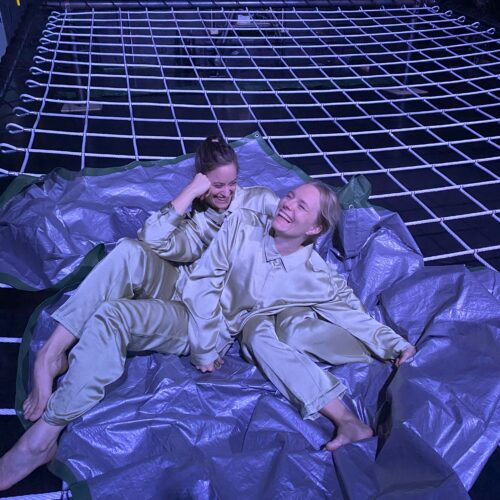 OR/OR
Madeleine Lindh and Anja Arnquist have been active in the field of dance and choreography since the early 2000s. In 2018 they started working as an artist duo under the name OR/ELLER. OR/ELLER quickly got the opportunity to create works for institutions and theatres nationally and internationally. After the success of the children's performance WEB, which visited Dansens Hus several times and was performed almost a hundred times, the sequel NET is now coming. The performance has been created together with DANSEHALLERNE in Copenhagen and Denmark's children and youth network KORA.
OR/ELLER's dance work is characterised by highly visual scenic works with dance as the speaking engine.
Their latest work, Terrarium, was created for Norrdans ensemble and has received both audience acclaim and critical acclaim. In 2024, NET is touring in both Sweden and Denmark and their new work DOLLY will premiere at MDT in Stockholm. The duo's recurring interest is to work with the concept of "inside", which they pursue in parallel through choreography and scenography and by letting their performances wedge themselves into large formats on larger stages or between two books in a library. OR/ELLER think of their works as interfaces, where they invite both dancers and audience, children and adults, to become part of a fiction that plays with a complex and simple tone, where both seriousness and humour can be found.
Concept, choreography & OR/OR
Anja Arnquist, Madeleine Lindh
Dancers
Elinor Tollertz Bratteby, Rebecka Berchtold and Karin Bergman
Stage design
OR/OR in collaboration with Naemi Gustavsson
Costume
Naemi Gustavsson
music
William Rickman
Graphics, illustration
Agnes Florin
Production
OR/ELLER & Nordberg Movement
Co-production
Dansehallerne Copenhagen and Norrlandsoperan, Umeå
In co-operation with
Dansens Hus Stockholm
Implemented with the support of
City of Stockholm