Cashews, flowers, single-celled animals, rivers, centipedes, frogs, snakes, porpoises, bees, grasshoppers, fungi, underwater environments, skies and stars.
Tickets
A Brazilian encantado is a kind of magical being driven by unknown forces, moving between heaven and earth, in jungles, on rocks, in fresh and salt water, in dunes, in plants and transforming them into sacred places. Choreographer Lia Rodrigue's colourful and challenging work was created in the aftermath of Covid19 to explore how we can cast a spell on our fears and make us part of the collective with closeness to each other and a new way of encountering each other.
About "Encantado"
The word 'encantado', which comes from the Latin incantatus, refers to something that is or has been the subject of an enchantment. It is also synonymous with wonder, dazzle or fascination.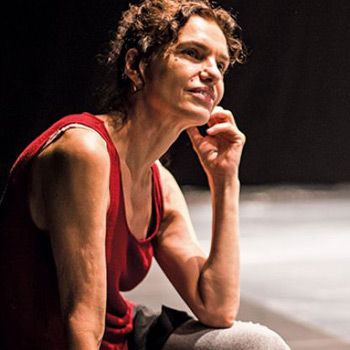 About Lia Rodrigues
Lia Rodrigues was born in 1956 in São Paulo, Brazil. She studied classical ballet and history at the University of São Paulo, where she participated in the city's contemporary dance movement in the 1970s. In 1980, she joined Maguy Marin's company. After a number of years abroad, she returned to Brazil in 1990 and founded the Lia Rodrigues Companhia de Danças in Rio de Janeiro, a centre that offered a programme of research, creation, courses and rehearsals. In 1992, she established the Panorama Festival in Rio and ran it for 14 years.
Since 2004, her company has helped develop outreach and artistic activities in the Maré favela in Rio de Janeiro, in collaboration with the NGO Redes de Desenvolvimento da Maré. This collaboration led to the Maré Art Centre, opened in 2009, and the Maré Free Dance School, open since October 2011. Rodrigues believes in synergies between art and social processes.
Her previous works include: What we are made of (2000), Formas Breves (2002), Incarnate (2005), Poetry workshops (2008), Pororoca (2009), Piracema (2011), Pindorama (2013), Para que o Céu nao Caia (2016), Fúria (2018) and Encantado (2021).
She has received the Knight of the Order of Arts and Letters medal from France, the Prince Claus Award from the Netherlands in 2014 and the Prix Chorégraphie de la SACD in France in 2016. In 2019, she was named best choreographer of the year by Tanz magazine 2019 and in 2020 she was awarded the Prix de la Critique Danse for "dance personality of the year".
Tickets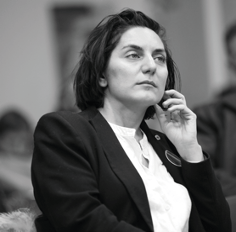 25 November
After-talk with choreographer Lia Rodrigues and Corina Oprea, Curator and Doctor of Philosophy and Art.
About Corina Oprea
Corina Oprea is a curator, editor and educator focusing on contemporary art, visual and performance culture. She has served as editor of L'Internationale Online, the digital platform for research and art from a network of over 15 leading European museums and art organisations, and as a lecturer at HDK-Valand in Gothenburg. Between 2017 and 2018 she was artistic director of Konsthall C in Stockholm. Corina holds a PhD from the University of Loughborough-UK and is the curator of Timisoara 2023 - European Capital of Culture. Oprea was born in Bucharest in 1981 and currently lives and works in Stockholm.
Created by
Lia Rodrigues
Danced by and created in collaboration with
Leonardo Nunes, Carolina Repetto, Valentina Fittipaldi, Andrey da Silva, Larissa Lima, Ricardo Xavier, Joana Lima, David Abreu, Matheus Macena, Tiago Oliveira, Raquel Alexandre.
Assistant choreographer
Amalia Lima
Dramaturgy
Silvia Soter
Artistic co-operation and photography
Sammi Landweer
Lighting design
Nicolas Boudier
Stage manager
Magali Foubert and Baptistine Méral
music
Excerpts from songs by GUARANI MBYA PEOPLE / Village of Kalipety do T.I. indigenous territory / Tenondé Porã, (sung and played during the indigenous peoples' demonstration in Brazil in August 2021 for the recognition of their ancestral lands at risk)
Sound
Alexandre Seabra
International presentation/bookings
Colette de Turville
Production coordinator
Astrid Toledo
Administration
Jacques Segueilla
Production Brazil
Gabi Gonçalves/ Corpo Rastreado
Production project Goethe Institut
Claudia Oliveira
Secretary
Gloria Laureano
Teachers
Amalia Lima, Sylvia Barretto, Valentina Fittipaldi
Co-production
Chaillot - Théâtre National de la Danse - Paris, Le CENTQUATRE - Paris / Festival d'Automne à Paris / Scène nationale Carré-Colonnes, Bordeaux Métropole / Le TAP - Théâtre Auditorium de Poitiers / Scène nationale du Sud-Aquitain / La Coursive, Scène nationale La Rochelle / L'Empreinte, Scène nationale Brive -Tulle / Théâtre d'Angoulême Scène Nationale / Le Moulin du Roc, Scène nationale à Niort / La Scène Nationale d'Aubusson, OARA - Office Artistique de la Région Nouvelle-Aquitaine/ Le Kunstenfestivaldesarts - Bruxelles, Theaterfestival - Basel, HAU Hebbel am Ufer - Berlin, Festival Oriente Occidente - Roveretto, Theater Freiburg, Julidans - Amsterdam, Teatro Municipal do Porto /Festival DDD - dias de dança and Lia Rodrigues Companhia de Danças, Association Lia Rodrigues-France with the support of Redes da Maré and Centro de Artes da Maré and the partners of the FONDOC (Occitanie)
With the support of
the International Relief Fund for Cultural and Educational Organizations 2021 of the German Federal Foreign Office, the Goethe-Institut and other partners. Lia Rodrigues is an associate artist of Chaillot - Théâtre national de la Danse and CENTQUATRE, France
Thanks to
Thérèse Barbanel, Antoine Manologlou, Maguy Marin, Eliana Souza Silva, team of the Centro de Artes da Maré