Figure-based dance concert with Charlotte Engelkes in a deep musical dialogue with 22 creatures made of the creative element papier-mâché.  
 
Figures in both the outer and inner world are the players in Charlotte Engelke's new performance 'Concerto di Figura' - a dance concert in which Charlotte surrounds herself with 22 beings who refuse to be described by simple labels. They change mood, temperament and intentions depending on the angle from which we look at them. Or are they looking at us?For who plays the main role in this paper-thin chamber drama? 
 
Like the wanderer in Schubert's 'Winterreise', Engelkes moves from room to room, moving his characters around in stories and dreams - sometimes comforting friends, sometimes judgemental congregation. There are conversations, parties, interrogations and miracle-saturated everyday drama at the highest level. 
The newly composed music is created by Willi Bopp, Charlotte's long-time collaborator, and ties together this playful, thoughtful mix of song, dance and text.  
 
"During rehabilitation and the world pandemic, I, and many others, have been forced to live in isolation and have made deeper contact with both our inner strength - and perhaps also with entirely new fears. New narratives have taken shape in the seclusion, and are now manifesting themselves as figures with alien forms. Who are they? Can they offer help? Can they show us a new way to exist? Being alone does not always mean being alone. 
Charlotte Engelkes
Charlotte Engelkes is a director and performance artist. Her productions are performed both in Sweden and at dance and theatre festivals around the world. Charlotte's artistic range spans dance, theatre, performance and opera - all in her own highly personal way. The performance Miss very Wagner, where Engelkes for the first time celebrated and explored four of the most famous heroines from Richard Wagner's opera world, was a surprising and heartfelt solo musical that reached an audience far beyond the world of opera lovers. It was the starting point for a series of stage works in which valkyries, heroes, giants and dragons have been given new life in the same loving and dramatic way, whether the audience was adults or children. Charlotte Engelkes was last seen at Dansens Hus in February 2022 with the performance Transplantation.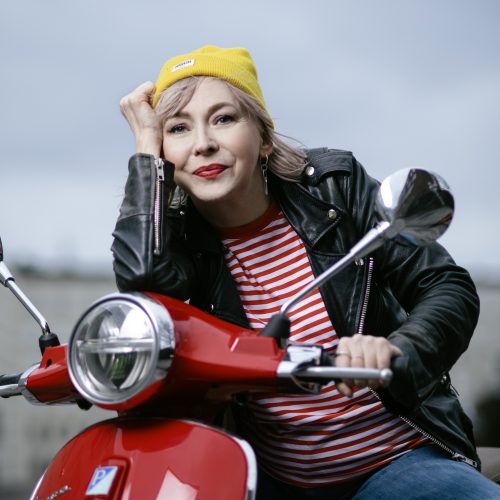 28 April
The performance will be followed by a post-show chat with Charlotte Engelkes. The conversation is led by Jenny Jägerfeld. Jenny Jägerfeld is a psychologist, sexologist and award-winning author, who is often heard on radio and television and who answers readers' questions every week in her column in Svenska Dagbladet. In her books, she often tackles the big and difficult existential questions with an unmistakable sense of humour. The conversation will take place in the foyer immediately after the performance.
The picture of Jenny is taken by Margareta Bloom Sandebäck.
Idea, concept, choreography, actor, papier-mâché figures
Charlotte Engelkes
Sound design, composer
Willi Bopp
Costume design, papier mache figures
Anna Ardelius
Lighting and stage design
Karl Svensson
Song lyrics
Charlotte Engelkes & Marina Steinmo
Stage and props
Collaboration with artists Geska & Robert Brečević/ Performing Pictures
The production is made in collaboration with the non-profit organisation ASTARTE with support from the Swedish Arts Council, Konstnärsnämnden & Kulturförvaltningen.