A rigorous ballet masterclass under the direction of Beatrice Cordua - the first ballerina to dance 'Le Sacre de Printemps' in the nude (John Neumeier's 'Le Sacre', 1972) - provides the framework for 'TANZ', Austrian choreographer Florentina Holzinger's distinctive performance now on our main stage.
Embedded in a Suspiria-like atmosphere, we witness the destruction of the female archetypes, motifs from ballet, comedy and pornography are part of the common rituals that the dancers - women between the ages of twenty and eighty - use to master their bodies. Sometimes it gets really uncomfortable - for who determines the ideal of beauty in dance and at the same time the limits of what the human body can withstand?
Choreographer Florentina Holzinger is known for her powerful physical performances.
Please note that a number of scenes contain very explicit nudity, intense self-pain and blood. This may be disturbing to some viewers. Strobe light effects are used and smoking on stage.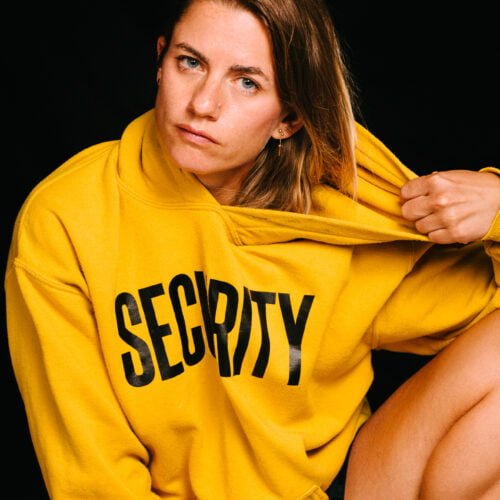 Florentina Holzinger
Florentina was born in 1986 in Austria. She studied choreography at SNDO Amsterdam. After graduating in May 2011, Florentina Holzinger presented the solo Silk and received the Prix Jardin d'Europe at Impulstanz. Joint works with Vincent Riebeek such as Kein Applaus für Scheiße (2011), Spirit (2012) and Wellness (2013) attracted international attention. Their work is shown at numerous festivals and production companies at home and abroad.
As part of The Future is F*E*M*A*L*E* festival, Florentina Holzinger presented Performance Recovery (2017), a collaboration with Frascati Producties. In the same year, she also presented her work Apollon for the first time.
Concept/Performance/Choreography
Florentina Holzinger
Performance by and with
Renée Copraij, Beatrice Cordua (Claire Philippart), Evelyn Frantti, Lucifire, Lydia Darling (Luna Duran), Annina Machaz, Netti Nüganen, Suzn Pasyon, Laura Stokes (Steffanie Wieser), Veronica Thompson, Josefin Arnell (Frida Franceschini), Florentina Holzinger
Video design/Live camera
Josefin Arnell (Frida Franceschini)
Sound design/Sound Technician
Stefan Schneider
Light design/Technical director
Anne Meeussen
Technical assistant
Koen Vanneste
Stage design
Nikola Knezevic
Internship assistant
Camilla Smolders
Dramaturgy
Renée Copraij, Sara Ostertag
Outside eye
Michele Rizzo, Fernando Belfiore
Music coach
Almut Lustig
Coaching
Ghani Minne, Dave Tusk    
Stunt support
Haeger Stunt & Wireworks
Stunt instructors
Stunt Cloud GmbH (Leo Plank, Phong Giang, Sandra Barger)  
Theory and research
Anna Leon
Costume advisor/tailor
Mael Blue
Prosthetic and Mask
Students of Wigs, Make-up and Special Make-up Effects for Stage and Screen - Theaterakademie August Everding Munich, Marianne Meinl
Management
Something Great (Berlin - DE) & DANSCO (Amsterdam - NL)
Tour Management
Dana Tucker
International distribution
Something Great (Berlin - DE)
Production
Spirit
Executive Production
Laura Andreß
Financial administration
Julia Haas/SMART (Vienna - AT