Rarely has a work felt more urgent than Ludvig Daae's new work 'Landscape'.
Four dancers, from different backgrounds, allow the changing and unpredictable world that cultural workers currently find themselves in to influence and inform the process. The four put their experiences together and explore where their experiences overlap and what separates them. The group learns from each other and lets the work develop organically until there is a shared landscape and they can drop in and out of each other's worlds.
"Landscape" shows that we are all individual, unique and complex - but always part of the same huge community.
The audience meets the dancers in a flexible landscape. You choose whether you want to take in the whole or follow the journey of a single dancer. William Rickman's soundtrack is the fifth actor - an energy that both leads and escorts you on the journey.
– I see 'Landscape' as a house built by many people. I am the architect, but when you walk through the house you find many fingerprints and see that the house was built with various different techniques and traditions, each representing an individual path through history," says Ludvig Daae.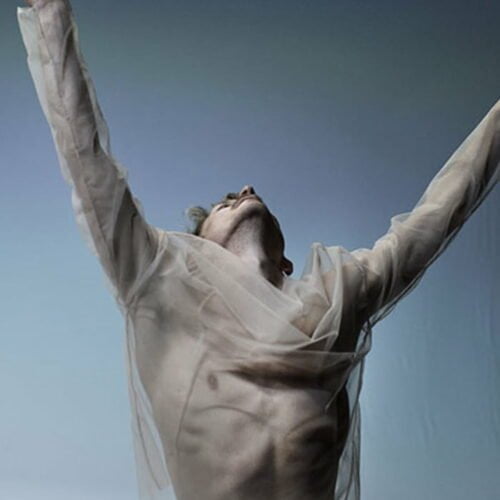 Louis Daae
Ludvig Daae is a choreographer and dancer based in Stockholm and Oslo. In 2017 he choreographed Cullberg at the Nobel Banquet in Blue Hallen and since then he has made commissioned works for KHiO, Kungliga Svenska Balettskolan, Ravnedans and in February 2020 he made a production for Norrdans. He is currently working on his next performance, Landscape, which will premiere in February 2021. He collaborates a lot with filmmaker Joanna Nordahl and their latest performance The Viral Dance is on tour with Dansnät Sweden in autumn 2020. As a dancer, he has collaborated with, among others, Deborah Hay (USA), Mårten Spångberg (SE), Compagnie Thor (BE) and Ingun Bjørnsgaard (NO). His own performances have been presented in 14 countries on stages such as Den Norske Opera og Ballett (NO), Spielart Festival (DE), The Place (UK), Vooruit (BE), Sophiensaele (DE), Dansens Hus (SE), Gessnerallee (CH), Moderna Museet (SE), Biennale de danse de Val du Marne (FR), MDT (SE), Mousonturm (DE) and GUIdance (PT). December 2015 Ludvig celebrated 100 performances in ten countries of his solo performance MM at Sophiensæle in Berlin. MM has been selected as the only Nordic contribution to the international dance network Aerowaves, made the top 10 list of best performing arts of 2014 in Portugal and earned Ludvig the title of "one of the young hopes for European dance" by the German dance magazine Tanz. In 2014, the solo was on tour in Norway with Riksteateret, and in Sweden with Dansnät Sverige.
Participants
Choreography
Louis Daae
Stage design
Chrisander Brown
Costume
Tove Berglund
Light
Chrisander Brown
music
William Rickman
In
Amie Mbye , Rina Rosenqvist, Morgane Nicol, Marcus Baldemar
Producer
Sara Bergsmark
Technician and technical coordinator
Björn Kuajara
With the support of
Norsk Kulturråd, Fond for Lyd og Bilde, Kulturrådet, Fond for utøvende kunstnere.
Photo
Chrisander Brown
---