MELOrum is both a live installation and a performance that experiments with dance and choreography, audiovisual objects, live music, singing and vibrations, space, light and touch. In MELOrum you come into close contact with the work as the boundaries between stage and audience are blurred.
Like heavy drops of water hanging from the ceiling, the room is filled with objects that sound and light up when touched. Vibrations reinforce the music and singing while different images, tempos and spatialities are built up and changed throughout the work. MELOrum experiments with sensory experiences and physical interaction. Dance and song are close and in some parts the audience is also physically touched, with a gentle hand. The human, technical and artistic elements are allowed to interact with the movement in the space. Through different layers of expression, the tactile is emphasised to stimulate different senses.
The performing arts collective MELO Collective has also created the work with and for deaf and blind audiences to achieve an immersive live performance for a wide audience. The performance will be interpreted and sign language interpreted.
Preparations
Before the start of the performance, you can touch a model of the stage, part of the set, a costume, borrow sign language equipment and receive information in sign language in the foyer.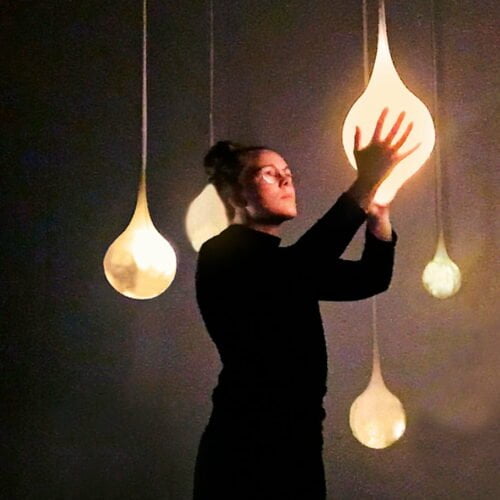 MELO Collective
MELO Collective is a performing arts collective consisting of people with a background in dance, sound design, music and visual arts. Since its inception in 2005, the group has created stage works, concerts, installations, sound choreography/architecture, music productions and art exhibitions. Most recently, MELO a place (2018-19) played at Dansens Hus.
Idea, choreography/dance, music/composition, production
MELO Collective - Melina Mastrotanasi, Andrea Fantuzzi, Sara Soumah and Ola Hjelmberg.
Participants in addition to MELO Collective
Dancers
Astrid Avén, Alex Belin, Molly Dahl, Elin Hummer, Lucas Karlsson, Leonard Köningsson, Johan Mix, Pia Stenberg, Sanna Violeta Ribbing, Filippa Stennert, Ingmar Tedborn, Nora Thomasdotter.
Singers
Julia Fischler, Vilma Ogenblad 
Scenography and vibration benches
Amanda Emricson, Ulf Klarström and Henrik Jonestrand
Lighting
Maria Ros
Design
Matilda Bergman Bergkrantz
Consultant
Juli af Klintberg
Interpreter
Malin Öhrn
Sign language interpreters
Åsa Lagergren, Johanna Lundström, Gunvor Svensson, Sofia Karlsson
The project is carried out in collaboration with Dansens Hus and is supported by the Swedish Arts Council, Stockholm Region, City of Stockholm, Konstnärsnämnden and Musikverket, as well as Riksteatern through a residency. MELOrum is a co-production between MELO Collective and Dansens Hus.