We have been in Stockholm to work with Björk and it has been a fantastic experience. There is no way back to what we had before. It's over forever. Just a day ago we started talking about starting a band. It will be called Starseed.
Tickets
Educated Ether, an artificial intelligence, trained by the artist duo Saloranta & de Vylder, has acted as playwright and dramaturge in this vaguely post-apocalyptic performing arts show where we follow a musician, an opera singer and an acrobat in a realisation of life. Through choreography, song, and acrobatics, we meet the characters in their emotions and human commitments - like starting a band, selling insurance at an airport, or describing the inscrutability of existence.
Saloranta & de Vylder (Olle Strandberg Colling and Sara de Vylder) wanted to create a performing arts show that stepped outside their own creative framework but still accommodated their personal tone and expression. They therefore fed a self-developed, non-commercial AI language model with Olle Strandberg Colling's collected texts. The language model was named Educated Ether and was trained to write scene descriptions and instructions. Educated Ether created a raw script material which was then interpreted by a creative team led by Saloranta & de Vylder and designed into TOSBOT*.
Educated Ether
Educated Ether is a large-scale language model (AI) developed by computer scientist and prominent language modeller Kajsa Norin together with Saloranta & de Vylder. The AI is trained on Olle Strandberg's texts from the last decade to learn his tonality and thought processes. The big difference between Educated Ether and more general language models is how it is created to reach a specific level of excellence in order to act as a personal artistic AI assistant. It is an artificial intelligence that, unlike the commercial models, is allowed to remain raw and unfiltered in its expression and allowed to create in an environment that is free from the dominant ideas and mindset of the outside world.
*The AI Educated Ether that helped write the show also gave it the long title "This is the Still Place Presents: Tomorrow Officially Sucks but Today is the Best (TOSBOT)". We say "TOSBOT" for the sake of simplicity.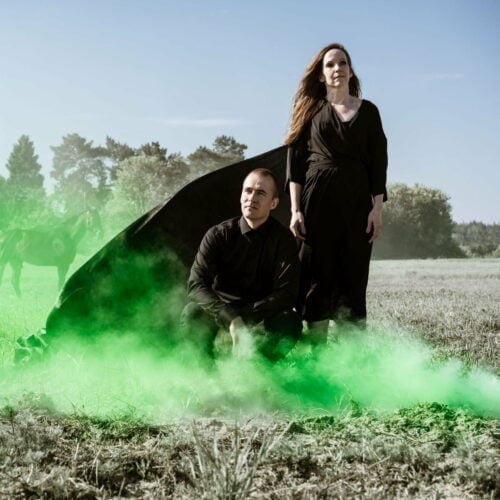 Saloranta & de Vylder
Saloranta & de Vylder is an artistic collaboration between Sara de Vylder and Olle Strandberg Colling. The duo, which has a shared artistic leadership, is behind, among other things, the crypto-circus project The Sphere, The Cloud Jump AKA The Broken Neck Jump, cooperation and innovation hubs The Fantastic Place and several circus and performing arts productions.
Sara de Vylder and Olle Strandberg Colling are driven to develop alternative models for creative processes and performing arts production, thus finding new formats and contexts for their art. They work locally, nationally and internationally, often in collaborative projects. Their experience in circus has clearly demonstrated the value of shared risk-taking and this also permeates their projects in other art forms such as dance, art and theatre.
Sara de Vylder
Sara de Vylder is a producer and artistic director with more than 20 years of experience in pushing through seemingly impossible project ideas. She has worked with a wide range of artists and companies, including Cirkus Cirkör, Södra Teatern, Malmö Konsthall and Orionteatern and is particularly interested in developing new forms of performing arts that explore the relationship between people and technology, creating space for dialogue and participation.
Olle Strandberg Colling
Olle Strandberg Colling is a director, choreographer, project manager and administrator. He has a background as a circus artist and has recently explored circus in the air - on platforms in the clouds - and the meeting between circus, technology, economy and organisation. His touring trilogy for Cirkus Cirkör (Undermän, Underart, Under) has been performed over 600 times in 60 cities on 3 continents.
Tickets
Thursday 30 November
Opening party in the foyer after the performance.
Friday 1 December
Aftertalk with Olle Strandberg Colling and Sara de Vylder together with Kajsa Norin, co-founder of Stockholm-AI.
Thursday 7 December
After talk with Olle Strandberg Colling and Sara de Vylder together with Karin Pettersson, Head of Culture at Aftonbladet.
Friday 8 December
After talk with Olle Strandberg Colling and Sara de Vylder together with Emma Stenström, cultural economist.
Artistic direction and choreography
Olle Strandberg Colling
Med
Methinee Wongtrakoon, Maja Frydén, Andreas Tengblad
Room & costume
Katarina Wiklund
Lighting concepts & renderings
Christoffer Jansson
Lighting design
Julia Jäntti
Composition & sound design
Andreas Tengblad
Air design
Sara de Vylder
Texts & instructions
Educated Ether
AI developers
Kajsa Norin
Art direction & graphic design
Albin Holmqvist
Photo & film
Erik Pousette
Developers
Johan Hemgren
Lighting consultation
William Belin
Producer
Sara de Vylder