Marlene Monteiro Freitas is recognised as one of the most exciting and talented choreographers of her generation. She fascinates her audience with strong images, liveliness and humour, with a seemingly endless creative ability.
Born in 1979 in Cape Verde, Marlene Monteiro Freitas is a dancer and choreographer. She studied dance at P.A.R.T.S. in Brussels and is now based in Lisbon. She has collaborated with Tânia Carvalho and Boris Charmatz, among others, both of whom have performed with us. Her work is characterised by openness, heterogeneity and intensity. She often invites fantasy universes free from normal constraints, creating situations as absurd as they are comical.
In 2015 the work was honoured Jaguar with the award for best choreography by the Sociedade Portuguesa de Autores. In 2018, she created Yellowish Canine 3 for the Batsheva Dance Company and was awarded the Silver Lion Prize for dance at the Venice Biennale. In 2020, her acclaimed work Mal - Embriaguez Divina at the Wiener Festwochen and this autumn she is coming to us with the work Bacchae.
Marlene Monteiro Freitas at Dansens Hus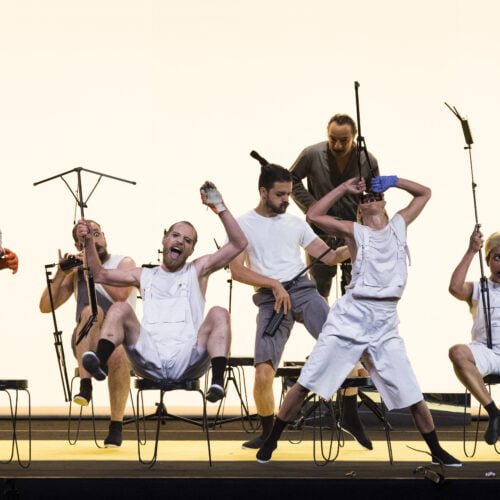 Bacchae
24-26 September 2021
Welcome to an existential trip where Euripides' tragedy Baccantes is dressed in a frenetic, visual festival costume, to the tune of Brazilian funk, pop...