Ingenious maths, existential march and nostalgic intensities are set in motion in choreographer Björn Säfsten's new work for four dancers at Elverket.  
Tickets
From intricate patterns of walking, twisting and sudden stops, the work emerges.  And so we're gone creating a detailed and fascinating web of movement. Through formations, geometries, rituals and everydayness are formed where memories are blown in, or are they fantasies, intensities of a life lived and a life lost.
Björn Säfsten is back at Dansens Hus with a brand new work. The work is based on a repeated pattern of walking, a choreographic approach approached with humour, seriousness, memories and a dose of imagination. The relationship between the infinity of time and our own finite mortality has been at the centre of the process. How are we stopped by a memory that attacks us suddenly? Do we understand the inexorable march of time, for real, or perhaps always too late?
Björn Säfsten continues to challenge the abstract and concrete at the heart of the movement in a work that hopefully only you will crack the secret.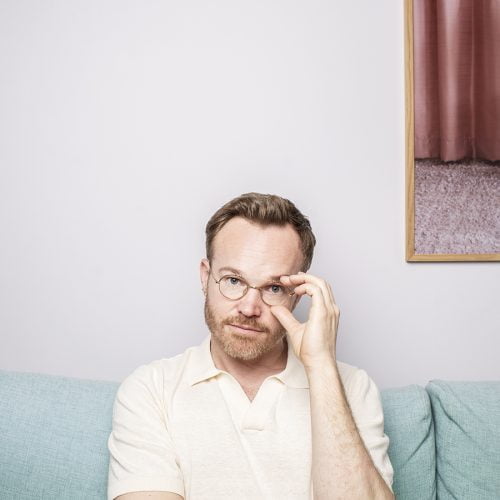 Björn Säfsten
Björn Säfsten is a dancer and choreographer, originally from Umeå, based in Stockholm. Säfsten is interested in the intersection between movement and gesture. Between the meaning-bearing and meaning-making aspects of a movement and what constitutes a movement physically: the mechanics, dynamics and musicality of the movement.
Säfsten is interested in developing methods for both analysis and production that address both of these approaches, so that they can cross-pollinate to change the logic, or approach, that dictates the development of choreography. In this, Säfsten finds a space for experimentation - a place where gestures can change meaning and where the body and its readings are challenged. In her work, Säfsten strives to exchange singularity for multilingualism. Multilingualism includes humour, identification, transformation and criticism. Säfsten sees studying the body's ability to create symbols, images and situations as a way to place the body in a cultural sphere, and looking at the construction, mechanics and dynamics of movement is an interesting way to try to challenge and develop the body's possibilities, as well as to process its movement heritage.
Säfsten's work is always based on the field of choreography but includes a variety of media such as movement, text, sound and song. The themes of the works determine the scenic expressions. Unlike in his early career, when he created works based on various philosophical concepts, Säfsten's current themes often come from his own experiences and topics relevant to his own life. Including Lost Night (2020), which deals with loss, grief and listening; I själva verket, created with Anja Arnquist (2021), an educational performance about the art of dance; and the latest work And so we're gone (2023), which raises existential questions about the ongoing nature of life. Säfsten's choreographies are characterised by the specificity with which the dancers perform the choreography and the intense presence they are in. In collaborative creation, different kinds of presence production are prioritised, which Säfsten constantly tries new methods for. Repetition is a recurring theme and interest in everything he does - in the creation of new physical practices and as a dramaturgical tool.
The performances play with the expected, building up situations only to be broken down, commented on or transformed into something unexpected, often creating a sense of humour with an underlying darkness, a form of satire.
Tickets
26 October
Opening night hangout in the foyer after the show
27 October
Post-interview with choreographer Bear Säfsten and Dansens Hus Andrea Redmer after the performance "And so we're gone".
Choreography
Björn Säfsten
Dancers
Pär Andersson, Philip Berlin, Madeleine Lindh, Jade Stenhuijs
Composer
Hans Appelqvist
Lighting design
Susanna Hedin
Costume
Daniel Åkerström-Steen
Production
Säfsten Produktion & Nordberg Movement
Thanks to
Anja Arnquist
Carried out with the support of the Swedish Arts Council, the City of Stockholm and the Swedish Arts Grants Committee.