Master of Dance is a dance monologue by and with Fredrik Benke Rydman. With humour, seriousness and strong visual choreographies, the audience is offered a different experience with both dance and theatre.
Tickets
The script is written by Martin Luuk and Benke in close collaboration and with humour as a weapon they set about breaking down the choreographic work into its smallest components. The performance is structured as a masterclass where Benke shares all the secrets of the dance world after many years as a dancer, choreographer and director.
The audience is treated as aspiring dancers and during the performance Benke will create a unique choreography following instructions given by the audience. He calls himself a Master of Dance and after watching the show you might even feel ready to apply for a job as a dancer.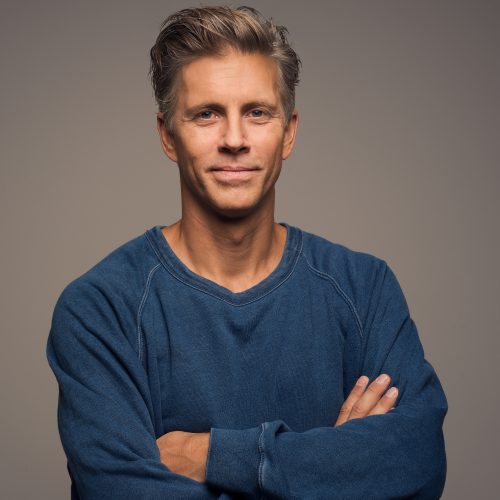 Fredrik Benke Rydman
Educated at the Ballet Academy in Stockholm (1994-1997), he travelled several times to Los Angeles to train and learn more about Hip Hop. Right after graduation, he founded the Bounce Streetdance Company with some friends.The group was active for 13 years between 1997-2010 and became a dance phenomenon in Sweden where the last performance sold out Globen 5 times (54,000 people) in one weekend. Bounce also toured several times in Europe with productions like "Bounce" and "Gökboet/ Insane in the Brain".
Since 2009, Fredrik has worked as a choreographer and director. As a dancer, he has also had the opportunity to work in many areas besides hip hop. The Cullberg Ballet along with commercial TV work has broadened his vision, and this is also reflected in his choreographic work.
He has made his own interpretations of classical ballets such as Swan Lake and The Nutcracker.These productions have had controversial themes and have mixed modern and newly written music with classical music.
For the Gothenburg Opera House, he created a version of The Firebird with more than 100 dancers on stage. At the Stockholm City Theatre, he staged The Rite of Spring and choreographed an industrial robot in a duet.
He has choreographed musicals such as West Side Story, Cabaret, Oliver, Fack Ju Göthe and Romeo and Juliet as well as directing and choreographing world artists such as Aviici and Robyn. He has also served as creative director for the Eurovision Song Contest's Interval Acts where his choreography "The Grey People" was highly acclaimed.
As a director, he has made "Macbeth", "Because Im wort it", "Oliver" and Ingemar Bergman's "The Seventh Seal" as well as "Jesus Christ Superstar" as an arena production in 2022 with Salo and Jöback in the title roles. He is currently working on 'The Girl with the Swallow Sticks' at Uppsala City Theatre.
Fredrik received the Theatre Critics' Prize in 2021 and the prestigious Benois De la Danse award in 2019. Finally, he organised the world-famous flash mob for Michael Jackson back in 2009.
Website: www.fredrikrydman.com
Tickets
Idea, choreography, set & costume design
Fredrik Benke Rydman 
Manus
Martin Luuk and Fredrik Benke Rydman 
Director
Jörgen Thorsson
Light
Fredrik Benke Rydman 
Sound design, composer
Petrus Königsson 
Graphical form
Daniel Bjugård 
Costume
Lehna Edwall
Photo
Andreas Lundberg