An emotional reflection on the imbalance of our nature and man's own inability to save it.
Tickets
In MIRAGE, Helena Franzén returns to her great source of inspiration, nature. There are the talking plants, the dancing bodies and the rapture of nature and its inner life. But she also depicts the lurking catastrophe - climate change that threatens our entire existence.
MIRAGE is a dance performance that explores the complex relationship between humans and nature. It depicts our insecurity, powerlessness and guilt when we try to take responsibility for our planet and approach nature in new ways. The performance digs into the feeling of lack of power and the question of whether our efforts really make a difference. On individual versus collective responsibility
The evening is an emotional journey through space, music and choreography where you will explore on an emotional level your relationship with nature and the importance of taking responsibility for your own actions.
MIRAGE is a call for feedback, reflection and action - a reminder that our planet is vulnerable and that it is our common task to take care of it.
Choreographer Helena Franzén on the work:
- In nature, I feel that I am a biological being. I am part of these different life forms, their cycles, textures, repetitions and patterns. I get to be part of something timeless, something organic. I can exist out of necessity,' says Helena Franzén and continues:
- I think that we humans are not only dependent on all the life that nature gives us in the form of earth, air, water and that allows us to exist. I also want to be able to give something back to nature, by sharing my dance and showing poetry and its necessary existence.
- In every dance, I want to celebrate the intangible, the unexplainable but touching - a kind of hypnotic simplicity... I see myself as a messenger of the body and all it can express. Everything is connected: dance, art, life.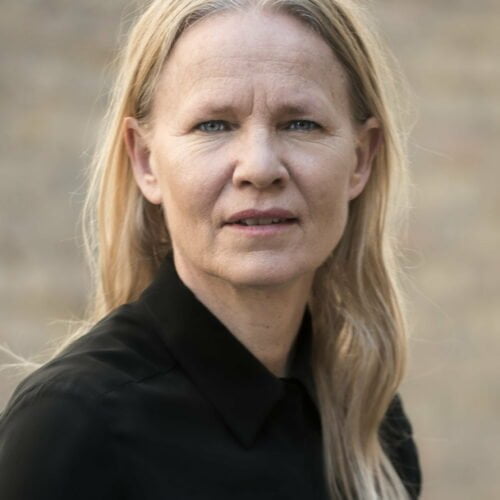 Helena Franzén
Helena Franzen has been a leading figure in modern dance for several decades. After 35 years of activity, she has created nearly 100 stage works that have been performed nationally and internationally. In 2011 and 2014, Helena Franzén was awarded the Swedish Theatre Critics' Dance Prize and the Gannevik Scholarship. Helena Franzén is a sought-after teacher and mentor and regularly teaches at many different dance programmes around the world.
In 2019-2020, Helena Franzén presented an extensive retrospective exhibition at the Dansmuseet in Stockholm, My Dancing Life. The exhibition included films, photographs, photobooks, interviews with experts from the dance field, two writings by Cecilia Malmström Olsson and Sinikka Neuhaus, and excerpts from her stage works.
Helena's world of movement consists of different physical landscapes. Through scenography, costume and music, she creates experiences of the sensual, the tactile, what the body experiences. Her work is often described with words like physical intelligence, movement poetry with nerve and presence, descriptions that clarify her place in the Swedish dance landscape.
Recurring themes include memory, how they take up space and what they do to us, the impact of place and phenomena related to our exhausted time.
In the latter part of the 1990s, Helena was in New York on a long-term residency grant through the Swedish Arts Grants Committee and Movement Research. This time is still reflected in Helena's choreographic work with her absolute focus on movement.
Helena Franzén's work testifies to a deep security in the belief in the ability of movement to express the human being, to tell a story about the human being, her outer and inner space. Carefully mapped details, shifts, moments. Her works tell of being in motion, of existing in time and space, of being a body in its entirety and in its parts - the outer and inner landscapes interact, change places, repeat themselves, disappear and reappear.
Her concrete observations in the form of dance offer resistance through small shifts and become an artistry on her own terms.
By Sinikka Neuhaus from the book about Helena's work, "It makes me shake".
For twelve years, Helena Franzén has collaborated with filmmaker and photographer Håkan Jelk, who has designed the stage and lighting for several of Helena's performances. Together they have created dance films, most of which have been presented at international dance film festivals.
Helena has in recent years created works for other places and spaces and her solo, Reverberate at Norrköping Art Museum, is the latest of these collaborations (2022).
Tickets
Choreography
Helena Franzén
Dancers
Janne- Marja Aho, Jennifer Wallén, Joseba Yerro Izaguirre, Kaho Yaganisawa
music
Emma Augustsson
Costume
Anna-Sara Dåvik
Stage design, lighting
Håkan Jelk
Tuba, trumpet, mixing
Anton Svanberg
Drums
Dennis Egbert
Mastering
Hans Olsson