Shaken duet about the city of the dead.
Tickets
Note! The performance is in English.
Necropolis examines one of the greatest humanitarian disasters of our time. Arkadi Zaides and his partners have collected data on migrants who have all died trying to reach or settle in Europe. Their research has become a digital archive, a virtual city of the dead called Necropolis.
The performance is a hybrid between documentation and choreographic reflection. The large, accumulated amount of data contrasts with the living, vulnerable body on stage. The bodies in the city of the dead, which Zaides gives movement back to.
A penetrating experience that raises the question of the ethical responsibility of all of us in this tragedy.
Zaides started collecting data on migrants who have died on their way to, or after arriving in Europe. This list is continuously updated....
Tickets
Concept, direction
Arkady Zaides
Dramaturgy, script, voice
Igor Dobricic
Examination assistant
Emma Gioia
On stage
Arkadi Zaides, Emma Gioia
sculpture
Moran Senderovich
3D modelling
Mark Florquin
Avatar animation
Jean Hubert
Animation assistant
Thibaut Rostagnat
Localisation of graves
Aktina Stathaki, Amalie Lynge Lyngesen, Amber Maes, Amirsalar Kavoosi, Ans Van Gasse, Arkadi Zaides, Benjamin Pohlig, Bianca Frasso, Carolina-Maria Van Thillo, Christel Stalpaert, Doreen Kutzke, Dorsa Kavoosi, Elisa Franceschini, Elvura Quesada, Emma Gioia, Frédéric Pouillaude, Gabriel Smeets, Giorgia Mirto, Gosia Juszczak, Igor Dobricic, Ilka Van Bijlen, Jordy Minne, Joris Van Imschoot, Julia Asperska, Juliane Beck, Katia Gandolfi, Katja Seitajoki, Luca Lotano, Lucille Haddad, Maite Zabalza, Maria Sierra Carretero, Mercedes Roldan, Meret* Heuss, Myriam Van Imschoot, Myrto Katsiki, Özge Atmış, Pepa Torres Perez, Sarah Leo, Simge Gücük, Solveig Gade, Sunniva Vikør Egenes, Tamara Vajdíková, Yannick Bosc, Yari Stilo
Lighting design
Jan Mergaert
Sound design
Asli Kobaner
Technical direction
Etienne Exbrayat
Administration, production
Simge Gücük / Crossroads Institute
International distribution
Koen Vanhove, Anna Skonecka/Key Performance
Co-production
Théâtre de la Ville (FR), Montpellier Danse 40 Bis (FR), Charleroi Danse (BE), CCN2 Centre chorégraphique national de Grenoble (FR), les ballets C de la B (BE), Tanz im August / HAU Hebbel am Ufer (DE), La Filature - Scène nationale de Mulhouse (FR)
Residency support
CCN - Ballet de Lorraine (FR), STUK (BE), PACT Zollverein (DE), WP Zimmer (BE), Workspacebrussels (BE), Cie THOR (BE).
Investigation support
RAMDAM, an art centre (FR)
With the support of
French Ministry of Culture - DRAC Auvergne Rhône-Alpes
Photo
Institut des Croisements (top photo) Yuli Gorodinsky (portrait) Vincent Staub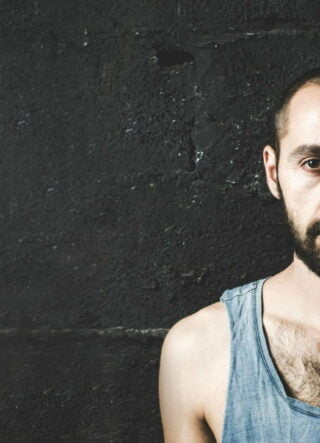 More about Arkadi Zaides
Discover, get to know and immerse yourself in artistry.