A life-affirming performance on vital issues.
Tickets
Carrying a Y chromosome after a bone marrow transplant, Charlotte Engelkes asks herself: Where do I end and the other one begin? Can I be everything? 
Together with dancer, choreographer and drag artist Sofia Södergård, Engelkes creates a performance about identity, existence, life and death. With dance, music, stand-up, opera, comedy and drama, Transplantation is a life-affirming variety show inspired by bone marrow transplants, love stories and Wagner.
Today, Charlotte has a completely new blood type and a Y chromosome. This new version of her is just over two years old. So she is somewhat reborn - and the old Charlotte is somewhat dead.
For Charlotte, the link to the story of Tristan and Isolde is obvious. Their love causes them to dissolve together. They do not know where one ends and the other begins. They cease to be themselves, they become one.
As Charlotte's co-stars in the show, we see the dancer, actor, choreographer and DJ, Sofia Södergård. Sofia Södergård and Charlotte Engelkes have long been looking for a context where they could work together on stage. Like Charlotte, Sofia has in many ways advanced the positions in Swedish performing arts on how we look at norms and identity, bringing up for discussion who we are and why and how we look at each other.
The music in the performance is (in the usual Engelkes spirit) a mash-up of newly written and classical music, in an imminently composed sound collage by Willi Bopp. Pieces of music from the opera Tristan and Isolde by Richard Wagner, is recorded by and with the Norrlandsoperan Symphony Orchestra conducted by David Björkman.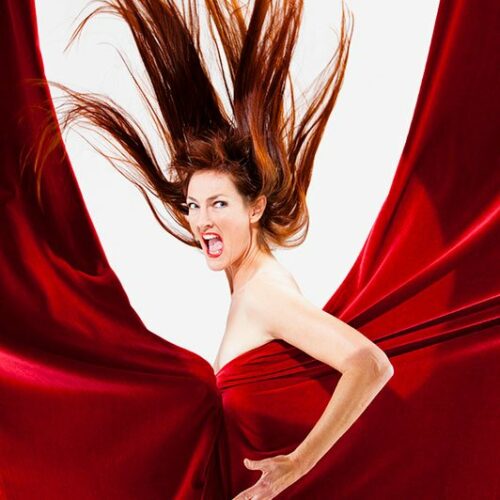 Charlotte Engelkes
Charlotte Engelkes is a director and performance artist. Her productions are performed both in Sweden and at dance and theatre festivals around the world. Charlotte's artistic range spans dance, theatre, performance and opera - all in her own highly personal way. The performance Miss very Wagner, which for the first time celebrated and explored four of the most famous heroines from Richard Wagner's operatic world, was a surprising and heartfelt solo musical that reached an audience far beyond the world of opera lovers. It was the starting point for a series of stage works in which valkyries, heroes, giants and dragons have been given new life in the same loving and dramatic way, whether the audience was adults or children. Charlotte Engelkes was last seen at Dansens Hus in the show Lohengrin Dreams 2019.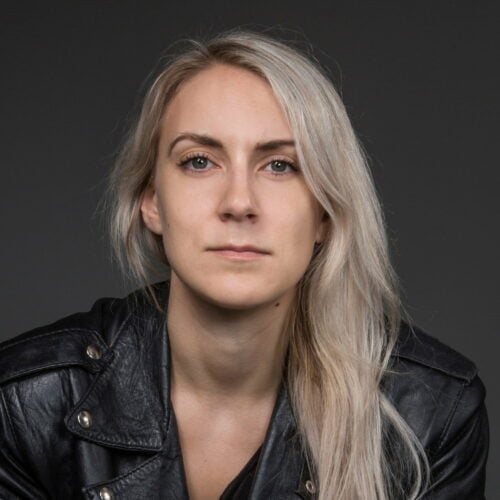 Sofia Södergård
Sofia Södergård, a dancer, choreographer and actor, is touring his own show. SLICK which was co-produced with Norrlandsoperan and was one of the selected performances for the Performing Arts Biennial 2019. I SLICK Sofia enters the stage transformed into the drag king Qarl Qunt who challenges the stereotypical masculine and feminine through drag realness. She is one of the founders of the dance company P*fect, which has been seen at Sadler's Wells in London, Melodifestivalen, Juste Debout in Paris, and as a support act for Lady Gaga.
In recent years, Sofia has choreographed, among other things, the musical Cabaret on the National Stage, The Chaos Family Hit the roof and Angels in America at Dramaten. Sofia is trained on the club and street dance scene in New York, the Ballet Academy Stockholm and at Stockholm Academy of Dramatic Arts. In the autumn of 2021, she participated in the performance PRIDE at the Royal Theatre in Copenhagen, directed by Falk Richter.
Tickets
Debriefing 25 Feb
A conversation between Charlotte Engelkes, Sofia Södergård and actor and drag artist Robert Fux.
Direction and concept
Charlotte Engelkes
Choreography
Sofia Södergård
On stage
Charlotte Engelkes, Sofia Södergård
Music, sound design
Willi Bopp
Music by
Richard Wagner, Tristan and Isolde, Prelude acts 1-3, is recorded with the Norrlandsoperan Symphony Orchestra.
Conductor and arrangements
David Björkman
Video projections
Geska and Robert Breçevic/ Performing Pictures
Lighting design, scenography
Karl Svensson
Costume design
Anna Ardelius
Photo
Mats Bäcker
Co-production
Norrlandsoperan, Dansens Hus
Stage design, props and costumes
Norrlandsoperan's studios and workshops
In co-operation with
An ASTARTE production in collaboration with Norrlandsoperan and Dansens Hus.
With the support of
Swedish Arts Council, Konstnärsnämnden, City of Stockholm
Touring with Dansnät Sweden in 2022