Sensory and sensual about love at the first wave of sound.
Tickets
"A sensory lecture" is a solo performance with and by Sindri Runudde, where we meet five voices in metaphorical dating scenarios. The performance is about auditory romance and love at first sound wave, a kind of play with sound, and especially the voice, as touch. Through dance, conversation and movement exercises, the audience is invited to a sensual and sensory lecture with humour, imagination and sensitivity.
Together with the composer Marta Forsberg Sindri has been exploring and playing with the voicemail phenomenon. They have explored the culture of sounding versus written SMS and looked with curiosity at the intimacy of the voice message.
The work and the project is based on Sindri's exploration of the practice of movement. "Centered Adventures", which is based on a tactile and auditory perspective. The audience is invited to try this practice during the performance, guided by Sindri.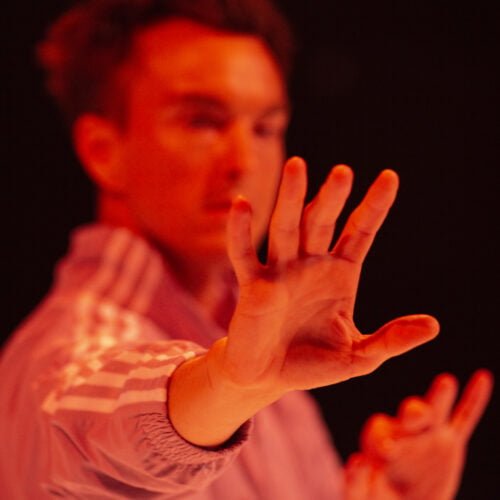 Sindri Runudde
Sindri Runudde is a dancer and choreographer who is also trained in contemporary circus. He is active in Sweden and internationally. Sindri's work spans different fields and expressions that include sound, visual art and performance. With a background in contemporary circus and dance, Sindri has worked with international companies such as Les sept doigts de la main, Candoco Dance Company and Skånes Dansteater. As a choreographer, she created "Vända och vrida" on behalf of Stockholms Stadsteater and later the performance "Fiskedansen" which toured Sweden and Europe in 2019-2020.
The autobiographical/fictional performance "Blind Boi diaries" toured Sweden in 2017 and "Golvet/Blå kongo", an interactive audio performance premiered with us at Dansens Hus and then presented in galleries around the country.
As a freelance dancer, Sindri has worked with choreographers such as Stina Nyberg, Carl Olof Berg, Martin Forsberg, Ben Wright, Jeremy Wade, Moritz Ostruschnjak and Miriam Gurtner. Sindri creates from a queer feminist starting point and from lived experience. Sindri lives with a visual impairment and is thus involved in national and international networks for artists and dancers with disabilities.
Tickets
Concept, choreography
Sindri Runudde
On stage
Sindri Runudde
Assistant, dramaturgy
Emelie Empo Enlund
Music, sound
Marta Forsberg
Lighting design, technicians
Ulrich Ruchlinski
Photo
Chrisander Brown